If you dream of opening a coffee shop, this article can help you a lot! Well, we will tell you some of the possibilities you have to work in this market, becoming a benchmark with the best models of coffee shops.
Of course, each of these ideas should connect with your local goals, habits and capacities, but we can say that each of them has great potential. Over the past 10 years, the coffee shop business has been one of the most profitable in the food industry; the profit margin is high, but we have to look at the factors that help us make a profit.
So, we invite you to read this article to find the idea and the motivation you need to give Yes to your coffee shop business.
For starters, is a coffee shop profitable?
Opening a cafeteria is one of the best options to invest your money, since the benefits are reflected in less time. The profitability of the coffee business is based on the fact that a cup of espresso is among the cheapest and most profitable processed foods; So while designing your cafeteria project, you can create a menu that will bring you more than 60% profit.
To start with profitability in cafeteria models, we will focus on following the basic rule of more customers, more benefits. Therefore, we will focus on how to attract returning customers. The customer returns to the cafeteria for three main reasons:
These are the top three reasons where price can be important, but that's not all as it is included in quality. In fact, we can note the success of Starbucks and we cannot say exactly that the price is cheap.
If you show up with a smile, customers will come back. If the place is clean, the customers will return. If the coffee and the products consumed are of good quality, customers will also continue to visit you. If the price is cheaper than the competition, but you do not meet any of the three premises above, the right customers will not return.
Managing your own cafeteria is much easier than you can imagine, you just need a good idea that makes you mark your own style, nourish yourself with the appropriate training that allows you to learn how to prepare a variety of coffee drinks and other snacks and some good ones. tips for how to operate a cafeteria.
Now yes! 10 business ideas of coffee shops
We love cafes, they are spaces where you can do a variety of activities: read a book, have a coffee, share, discuss a deal, work or simply enjoy a moment with yourself. Part of the appeal of the cafeteria models lies in the decoration and harmony that it brings to the customer, inspired by the style and identity of the brand.
Therefore, we have prepared a list of the best coffee shop models that you can develop to provide a comfortable and warm experience to your customers and, that they always want to return!
1. Bookstore Coffee Shop
The cafeteria plus bookstore business model has been well valued over time. Is there a more perfect combination than coffee and books? People love this combination! You can structure a coffee in a bookstore or you can create a reading space in your cafe.
The good news is that in addition to allowing everyone to enjoy a delicious cup of coffee and read a good book, it is also an ideal environment to meet people and even work. It is perhaps one of the most popular coffee shop models today and the most profitable coffee shop model.
2. Rustic Coffee Shop
Imagine that you are in a European capital in the middle of winter, with a bad cold and tired after a long walk after sightseeing… your body asks you to drink something hot, maybe a cup of coffee? This is the time where rustic coffee shop models come in.
As you can see, rustic coffee shops are establishments that provide unmatched comfort and convenience. These are the places where clients can go to relax, have a quiet conversation and regain strength.
The main reason for these pleasant sensations is the predominant wood material in the furniture. In addition, they are usually accompanied by comfortable sofas or armchairs.
3. Coworking Coffee Shop
This is one of the most organized modern cafeteria models. Since you can take advantage of the opportunities that technology presents and create a service structure for people who work on mobile systems.
Do a lot of people go to a coworking these days? Without a doubt! Even the number of people working outside the office is expected to triple in the coming years. You must embark on the concept that people always like to share a cup of coffee in their favorite place.
Coffee is often the natural fuel for people who have long working hours, and the moment you create an improved space, with Wi-Fi, convenience stores, tables and chairs, you can help them save a lot of money. Eye! You can not only offer coffee, but some sandwiches, arepas, tacos, ice cream shakes, soft drinks, etc.
4. Premium Coffee Shop
The Premium Coffee Shop is an exclusive environment for people who love good things and have no problem investing in its high price.
In addition to creating a sophisticated environment, you should invest in the purchase and production of premium coffees. When implementing this type of cafeteria model, it is essential for you to work with the best ingredients and form a qualified team of professionals to provide the best service.
5. Balcony Coffee Shop
This is one of the simplest and easiest to understand coffee shop models. In this cafeteria there is a balcony, where customers order and usually end up eating standing up, they take it somewhere or sit for a few minutes at the table.
This is the simplest way that you can offer a variety of coffee options, but you can also sell juices, sodas, and even tea if you want.
Remember to invest in some add-ons for your drinks, for example, salty foods, sandwiches and some desserts, like cakes. For the place you do not need large decorations or a large area, but what is required is attention that is done quickly and correctly. Empathy will keep customers coming back.
6. Bistro Coffee Shop
This is a type of restaurant that serves a variety of dishes. It is one of the most welcoming small cafeteria models, since it is a place where the customer can go to have lunch and have a good coffee.
It is important that the environment is comfortable, even if it is very small. In addition to the varied and quality coffee menu, it is also important that you invest in meals that can satisfy your customers.
7. Modern Coffee Shop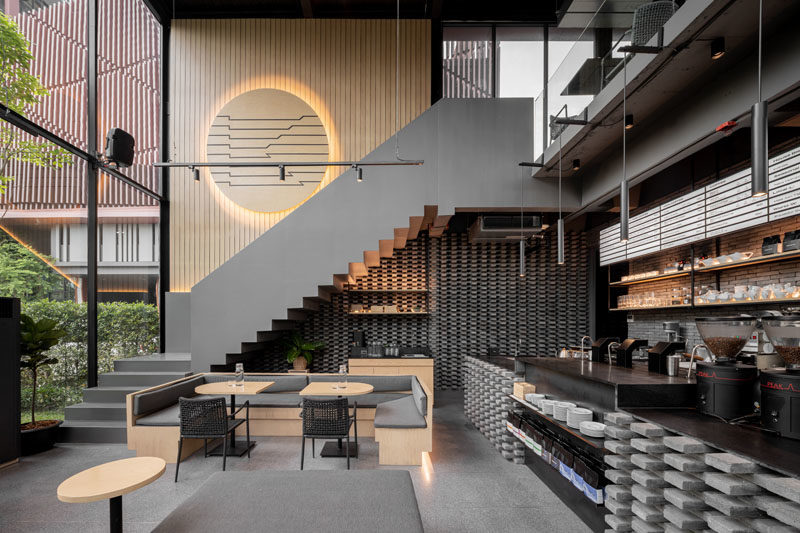 We live in a society that tends to simplify things, look for spaces to be creative and find places that make you feel different. The innovative business models in coffee stand much simple forms of all furniture.
In addition, the contrast of forms, the distribution of objects, and even giving a certain feeling of freshness is fully compensated by the different types of colors.
This style of cafeteria models has grown in recent years, especially in the main capitals and tourist areas frequented by young people such as Ibiza, London and New York. The funny thing is that the design of these types of cafes is generally modern, so sooner or later it will become very popular for everyone.
8. Vintage Coffee Shop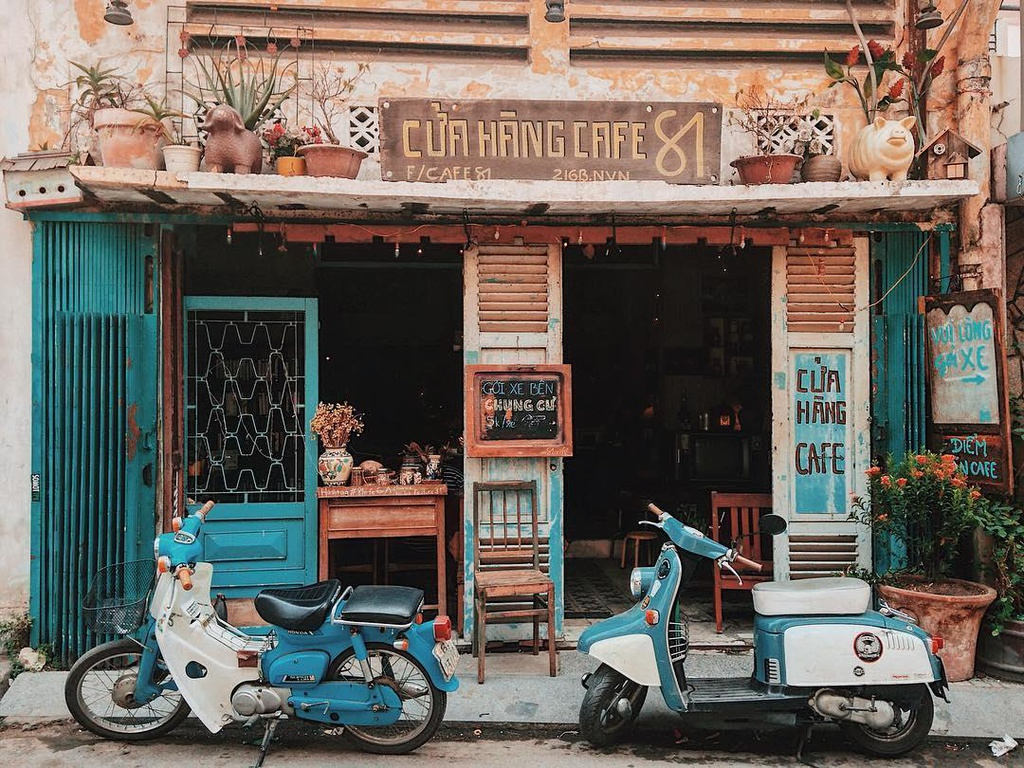 It refers to any object or situation that cannot be considered old, but is not current either. And more than that, its value has increased over time.
What most distinguishes the establishments from these cafeteria models is the amount of different and varied items that you can find. What is even more surprising is seeing the contrast between these beings and the things that exist.
There are two main trends, the cafes that focus on decoration during a certain period, such as the typical roadside cafe of the 1960s, or the typical French cafe of the turn of the century. Another collection of vintage coffee design is the most prolific, it is a mix of themes from different eras.
9. Mobile Coffee Shop
The business model for a mobile cafeteria involves owning an establishment that operates in different locations for a certain period of time. It can be a kiosk, stand, bicycle, truck, or any suitable vehicle that can be moved between different locations. It also allows owners to sell coffee, drinks and snacks without incurring higher expenses.
These models of mobile cafeterias are an alternative to bet on a permanent place in uncertain economic times without having to resort to renting a premises, due to the flexibility and large market share that it can serve.
The largest number of customers are received in the morning, because, in general, it is when they have their coffee and have breakfast. However, depending on the menu, location, and day of the week, they can get heavy traffic in the afternoon and evening.
10. Sustainable Coffee Shop
One of the successful cafeteria models that are currently trending are those that are committed to sustainability and respect for the environment. However, coffee as an input and cafeteria design are no exception to such a large movement.
Consumers bet and believe in preserving the environment, that is why we must provide them with a design and decoration in accordance with its principles, always respecting the care of the planet and ensuring a good experience for our customers in the future.
Think green, recycled and finishing materials that are not created from products that threaten the ecosystem. Use lamps that provide good lighting with the least amount of energy possible. It offers the possibility of using old or recycled furniture, decorating with indoor plants that require less water, and you can even make luminaires with recycled products such as bottles, etc.
Conclusion
After knowing all the models, which one caught your attention the most? What would be the ideal cafeteria model for you? Now is the time to start planning and making that dream come true. We are sure you have the ability!
The cafeteria must constantly improve. You can expand your menu, improve the quality of the products you sell, the service or the profit margins. This allows the cafeteria to recover and make steady profits. There will be roadblocks, things customers don't like, bad days. But in the end, you will have a stable and profitable business.
Probably wanna read: