There are many doubts about how to make a podcast, since it is a little explored format that is not very competitive. The podcast is a type of content in audio format that can be downloaded or listened to on the internet. We can say that it is like an online radio program that is distributed by different platforms and is available to everyone.
Spotify, SoundCloud or Ivoox are some of them. This type of content is becoming one of the preferred formats of Internet users. Its audience is increasing and so are the people who see it as an opportunity to undertake online business. It has also become part of one of the most innovative digital marketing strategies for creating content. Well, its use can help to gain followers, educate the audience and offer valuable content.
These can be recorded as an interview, panel or reflection and there address a specific topic. Now, to give you a bigger picture, we are going to talk in detail about podcasts. In this article we will teach you how to make a podcast and how to make money with it. So let's get started.
Can you make money from a podcast?
The answer is yes, there are several ways and it can be very profitable. However, to make money with a podcast it is important to scale until you get a significant number of visits and followers. As with other online content, you have to know how to create it, add value and win over the audience. But calm, even if you are starting you can make it work well and be profitable from the beginning.
Here are 6 ways to make money from a podcast. In addition to this, we will explain how to make a podcast step by step.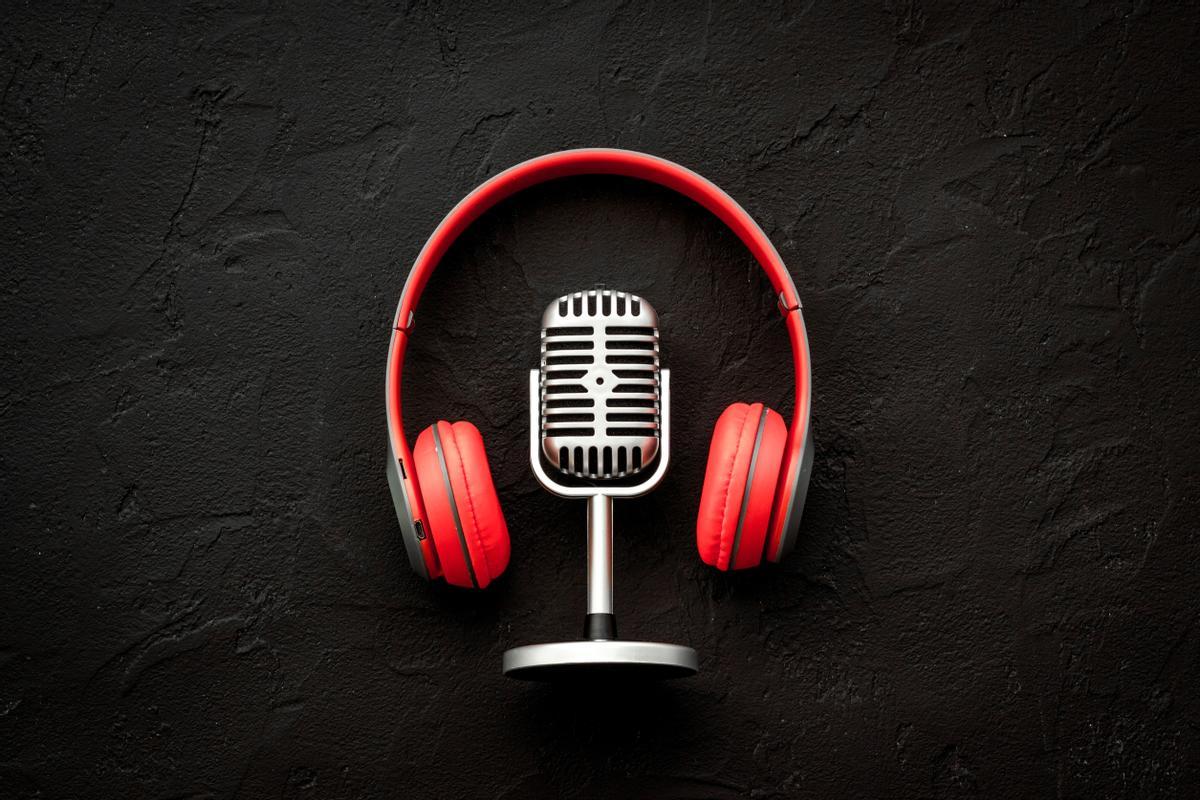 How to make money from a podcast: 6 ways
1. Monetize directly on the platform
Platforms like Spreaker and iVoox offer the ability to monetize each episode of audio you upload. To do this, you must activate the automatic ads on each platform. It works like this, they insert advertisements or advertising spots in some moments of your program while it is playing. The income generated is shared with the platform and, as in YouTube, the more visits you have the better.
2. Affiliate Marketing
It is a quick and easy way to generate income when creating a podcast. Here you get commission for promoting or referring third party brands, products or services. If one of your listeners buys from your referral thanks to podcast advertising, you earn money.
The affiliate marketing a podcast can be managed with a personalized link or some kind of offer. To do this, it is recommended that you promote brands or products that you use or that interest you. This way you can make a more natural advertising, based on your experience and with greater persuasive power.
3. Sponsorships
Advertising and advertising brands is an effective way to make money in both traditional radio and the digital world. This is, basically, offering an advertising space on your podcast to brands interested in promoting themselves.
Here you choose the sponsorship, so you can target companies in the market niche in which you operate. In addition, you are in control of what your audience is going to hear and you can recommend products that you already know.
If you reach a significant number of followers and reproductions, you can opt for services like Midroll. Which, based on your analytics, connects you with companies seeking to advertise.
4. Premium content
The idea is to offer exclusive content so that your listeners pay for it. These contents can be additional episodes, a VIP section of questions with guests or a compilation of previous programs.
Another way is to offer a part of the episode for free and that only premium members can access the rest of the program. Keep in mind that only part of the audience will want to pay for more content.
Therefore, you must be very selective about the extra content that you are going to offer and make sure it is of value.
5. Sell your own product or service
Just as you can promote to third parties, you can also do it with your own products or services. If you have an online store, a local, offer a service or market a product, you can take advantage of your podcast to advertise it. Even if you don't have it, you can think about creating one and launching it for this purpose.
You can start by using a few minutes of your show to tell your listeners about what you do. You can also dedicate an episode to interview one of your clients or workers. This is not only a way to make money from a podcast, it is also a strategy to attract potential customers and gain a reputation in your market.
6. Crowdfunding & Donations
This is a very viable option as you build a community of followers. If your content is entertaining, valuable and interesting for the listeners they will surely be willing to donate to show their support for your work.
One of the easiest and most popular ways to receive donations on podcasts is through Patreon. Also, if you have a website to insert your podcasts you can include a PayPal button to donate there. The important thing is that it is easy for users to make donations.
How to make a podcast step by step
Now that you know the benefits of the podcast and the different ways to earn money, we are going to teach you how to make a podcast step by step. But before that, you are going to need the following tools:
Microphone: it is essential to have a good microphone to have quality audio. Be it a USB microphone, lavalier or even a smartphone, it doesn't have to be expensive to be able to record a good podcast. You just have to choose the right one and the offer in the market is very wide. You can opt for a sound condenser microphone or a dynamic microphone for live vocals.
Recording and editing software: It is also necessary to have software to record and later edit the audio. Some of its functions are, in addition to recording, leveling the volume of the voices, cutting unnecessary parts or including music. On the internet you will find very good software options such as Audacity (free), Adobe Audition and Reaper.
Recording location: This does not necessarily have to be a professional recording studio. The important thing is that you have a space free of external noise where you can record with peace of mind.
Once you have all the tools ready, you can start creating your podcast by following these steps:
1. Define the objective and select a topic
The first step and the key to creating your podcast successfully. You have to define what is its reason for being. That is, what are you creating it for? This can be: show your professional knowledge, promote your brand or create a community of listeners. Also, gain recognition in a niche market or simply share interesting content.
Once you have clear the objective, the next thing is to choose the topic of your podcast. No matter how much knowledge you have, it is important to focus on a specific topic. And thus give room to expand it in future podcasts.
2. Specify the target audience
After defining the objective and selecting the topic, you must specify for whom you are going to create the podcast. This in order to be clear about the target audience and, according to their characteristics, focus the content.
Remember that knowing the audience and creating a buyer persona profile will help you correctly target your podcast. This way you will be able to generate content that adds value based on the interests, tastes or needs of the listeners.
3. Choose the type of podcast
Choosing the type of podcast will depend on the steps above. Some types of podcast format are as follows:
Interview: With one or more guests to chat about a specific topic.
Informative: To convey some information to the listener. Similar to the radio news format.
Educational: To offer classes or complementary training.
Individual: Where the host is in charge of the introduction, development and conclusion of the program.
Debate: With the participation of several guests and hosts to comment or discuss a topic.
By choosing the type of podcast you can combine one or more formats. The ideal is to give your program your own style and that is consistent with your target audience.
4. Prepare content and create a script
Before recording the podcast, it is important that you prepare the content of the topic you are going to address. Writing a script is a great way to structure program content. In addition, it works to give a direction and an order to each episode. It can also help you to be more confident when speaking, as you may need to cite some important information that is difficult to memorize.
5. Create the identity of the podcast and select a name
That your podcast has an image and a brand identity is also important. This is the first impression your listeners will have. So you can study some branding techniques and graphic styles to create an attractive identity. A good color combination and a custom logo will help you stand out and attract the attention of your audience.
Your podcast should also have a name that is easy to remember and easy to pronounce. In addition, it is recommended that the name transmit a message, communicate an intention related to your objective and generate interest.
6. Record the podcast
At the time of recording it is necessary that you adapt the space, have all the tools ready and have followed the previous steps. Before recording you can prepare yourself vocally by doing voice and diction exercises. You can also practice with the podcast script and if you have guests you can review all the points together. Make sure all equipment is working properly and is 100% ready to record. This way you will avoid repeated pauses during recording and reduce the editing work.
7. Edit the podcast
In the editing phase you will work on improving the quality of the podcast to give it a professional appearance. Here you will correct details such as external noises and leveling of voices. This way listeners won't have to constantly turn the volume up and down because the sound is lower in places. In editing you can also cut unnecessary or irrelevant parts. In addition, you can add music or sounds to make way for another point or set the podcast.
8. Publish the podcast
After editing, your podcast is ready to be published. Before publishing make sure that the audio file is in the standard mp3 format. So you will not have problems uploading it to the different platforms.
Regarding the platforms to upload your podcast, there are the following options:
Soundcloud
One of the most popular platforms for hosting podcasts with both paid and free versions. The free version offers the necessary tools to publish and share podcasts. However, this version has a publication time limit that, when exceeded, will require a premium account.
Spotify
The most used music app also has its own website for podcasters. Although its free version also has certain limitations, it is one of the best options to reach a large number of listeners. Well, until 2019 it had more than 232 million users.
Anchor
In Anchor, in addition to publishing your podcast, you can also create it from scratch. The platform allows you to record, edit and add sounds, all for free and with unlimited episodes. This platform is a partner of Spotify and has managed to gain a lot of recognition in the creation of podcasts. In addition, it also allows you to monetize the content.
iVoox
This is one of the best options, as it is the largest Spanish podcast platform in the world. iVoox allows you to host, share and monetize podcasts for free and without limitations. Another of its great advantages is that it offers the option of linking content to websites and social networks.
Spreaker
Another platform that allows you to monetize podcasts. It also offers the option to link the shows to YouTube or Spotify and share the URL on social media. It has free and paid plans and from there it is also possible to record the episodes.
iTunes or Apple Podcasts
iTunes is now known as Apple Podcasts and is the largest podcast platform in the world. When uploading the audio, the platform will provide you with an RSS feed link to share on other platforms.
Google Podcasts
Google was not far behind and also launched its own podcast platform. It is free to use and has a simple and well-designed interface. This platform offers a more personalized experience to Android users.
These are just some of the available options in which you can host your podcast. It is advisable to initially upload it to one of these platforms and from there distribute it to the others. This is done through the RSS Feed generated by each platform. This is a URL that distributes the content between the different platforms and that updates the information automatically.
9. Disclose
This is the last step in this guide on how to podcast. Once published on the different platforms, you must distribute your podcast on other digital channels. This in order to make it known and popularize it. You can use your social networks, website, blog or YouTube channel. So that more people can access the content and start to gain followers.
Conclusion
It is clear that creating a podcast is a task that requires time, effort and organization. However, if you manage to combine all these elements with a lot of discipline and creativity, you will be successful at it. Podcasts are an effective way to make money online, promote a brand, and create innovative content.
It does not matter if you are an entrepreneur, businessperson or independent, knowing how to make a podcast and know its benefits will surely be very beneficial for you. We hope that after reading our guide you have learned what it takes to create your podcast and make money with it.
Probably wanna read: