The textile industry is one of the most active in the world, with a turnover of more than $3 million dollars a year. The fact is that clothes are always going to be needed, as a consequence, this business can change types of fabrics, styles, models, shapes and functionalities; but it will always exist globally. For those who love dynamism, constant renewal and want to market a friendly product, today we bring you 10 ideas to start a clothing business.
Do you buy clothes at least once a month? Do you wear different outfits for specific occasions? You yourself can see how profitable the fashion business is. Therefore, we will teach you everything that this entails, from how much to invest to which are the best-selling products, keep reading! Here we will tell you everything.
What is a clothing business like?
Fashion is a high-income business anywhere in the world. People constantly add new clothes to their closet, whether they are current trends, vintage fashion, or from bygone eras. There are many styles, which is why people cannot make up their minds and massively consume the textile industry. It is a trading business, or better known as marketing.
Selling clothes is good business and it is a profitable project. You can start from anywhere, your home, garage, boutique , online store, part-time business, or just weekends. Fashion businesses are ideal for those who want to invest their savings in a profitable and quick-profit business. If you want to start a venture and that the demand for products does not decrease over time, we leave you some of the reasons why clothing stores are your best bet:
You don't need large capital, large facilities, or large numbers of employees.
All people need clothing: babies, children, youth, adults and the elderly.
It will never stop being a busy and in high demand business.
You don't need to be a professional or have extensive experience.
There is a variety of materials with which you can create original, innovative and high quality products.
You will enjoy a growth opportunity through the sale of your products to the local, national and foreign public.
The best thing about this business are its opportunities, business ideas for sportswear, children, work, intimates and much more.
10 clothing business ideas: create something chic
The fashion industry offers great opportunities to those who decide to undertake it. Once you know what clothes to sell, create a name and logo for your business, it does not matter if your business is online or physical, strive to create an image that identifies your brand.
See what is the average purchasing power of consumers in your area. If they have low salaries, you will have to sell quality clothes but at affordable prices. The changes of time and fashion have made the world of clothing a creative industry capable of realizing any idea you can imagine.
We created for you a list of 10 clothing business ideas to encourage you to undertake and start generating income from what you are passionate about.
1. Baby clothes
To start with ideas for a clothing business, we bring the sale of baby clothing. It goes without saying that millions of children are born each year and their parents are looking to buy clothes, toys and other necessities. Of course, a good business idea is to sell or rent baby clothes, since it has the potential to be a profitable business and you can start it in several ways, as long as you have proper planning before launching your brand.
Make sure to set the space according to a baby store, include stuffed animals, pastel tones, arrange clothing in small furniture and create corners or play spaces. In a baby clothing business project you can offer the following range of products:
Baby clothes: from newborns to 24 months. They can be booties, socks, rompers, gowns, pants, jumpsuits, jackets, shawls, shirts, hats, dresses, skirts, bibs and other garments that you consider necessary.
Basic baby supplies: baby carriages, sterilizer, bottles, newborn baby accessories, cutlery, baby food holders, anti-spill cups, lotions, wipes, bibs, cleaning kits, colognes, brushes.
Furniture: changing tables, cribs, dressers, furniture, drawers, among others.
Decoration: lamps, wall stickers , pictures, mobiles, etc.
Educational toys for the development of the baby: wooden or plastic cubes, rattles, stories, swings and many more.
You can promote your business by:
Open accounts in social networks.
Start a promotional blog.
Post ads on popular sites frequented by new and prospective parents.
Give coupons to your local baby care and play groups.
Organize in-store events for parents.
2. Children's clothing business
We continue our list focused on the world of children and that is one of the most profitable clothing business ideas are children's fashion. Entrepreneurship in a children's clothing store is considered a good business opportunity since children are constantly growing. The children's clothing market is a specific niche that works very well if you know how to get there.
First you must research this business, learn about suppliers and designers, as well as have basic knowledge about the operation and management of a business. As a second point, you must decide what type of children's clothing you would like to sell, you can choose between selling your own designs or buying the designs of others, or if you will sell second-hand or new clothes. It is important to determine what type of market your business is targeting.
It is estimated that your total investment can be between $5,000 and $15,000 to open a small children's clothing store. To create your business we recommend the following:
Buy children's clothing in bulk.
Sell ​​shoes and clothes for each season.
Consider adding fun gifts like stuffed animals and kid-sized bags.
Buy your merchandise from online vendors or warehouses.
3. Sportswear
Take advantage of these ideas to start a sportswear business to captivate lovers of the fitness world . More and more people are leaning towards leading a healthy lifestyle and are doing different sports, which is why they need different elements to exercise correctly.
A sportswear or fitness company is an organization that sells all types of athletic shoes, clothing, and equipment at retail. Products are usually sold locally, but also through the Internet. This type of business mainly supports athletes and people who like various sports, and offers the best sportswear and accessories, and even nutritional support.
Depending on the size, the quantity of products and the location of the business, the initial cost is between $50,000 to $ 250,000 USD. There are a variety of products that you can choose to include in your sportswear business:
Women and men: fleeces, raincoats, windbreakers, vests, solar top, wetsuits, thermal tops, women's shorts, jackets, sweatshirts, pullovers, t-shirts, shirts, leggings, pants, skirts, beach bikinis, swimsuits, bikinis for swimming.
Accessories: Fitness items such as weights, bars, discs, aerobics, soccer balls, futsal, volleyball, basketball, rugby, golf balls, baseball, cricket or tools for extreme sports such as surfboards, skateboards, skates, paragliding.
Sports supplements: Vitamins, pre-workout, burners, proteins, weight gainers, amino acids, creatines, pre-hormones and snacks.
When offering your products remember to highlight all the benefits they can provide and have a clear understanding of what you are selling so that you can spread them. Interaction with customers, suppliers and employees will be one of the main tasks to perform every day. Therefore, you must have interpersonal and communication skills, as well as business acumen to be successful.
4. Vintage clothing
Looking for innovative clothing business ideas? Selling vintage clothing is a profitable and promising endeavor. Why do we say this? Very simple, there is a belief that every 20 years old fashions return to their peak due to the need for consumers to impose fashions to stand out from others.
On the other hand, with the rapid changes in consumer awareness about the source of clothing, selling vintage clothing this year is also a good sustainable business opportunity.
While you may be inclined to prefer and distribute what you like, consider selecting a niche within the vintage apparel space to set your business apart. Your store may choose to focus on:
A decade or decades, for example the 1920s or the 1980s.
A specific purpose or occasion, such as evening wear or winter wear.
High-end vintage designs.
Renewed styles: adaptation of vintage garments to new pieces.
Repurposed vintage clothing as a sustainable solution.
Develop a system that helps you classify, store and identify items to simplify shipping to your customers and meeting delivery times. Unlike stores with a limited list of products (multiple units within each product), vintage items are often unique.
Each new part is marked, numbered, and filed in order. Sort the shelves by type (pants, blouses, jeans) and color so that any employee can easily find the items. You can project your vintage business from your residence with little initial investment.
However, this is a business that requires you to buy the inventory in advance, except that you opt for a consignment model: you only pay for the merchandise after you sell it.
5. Used clothing
Nowadays, the trend to buy from second-hand clothing stores has increased considerably for several reasons, one of them is cost. So you get clothes that are in good condition at preferential prices, and these are clothes that may no longer be available on the market. This trade gives way to the reuse of elements, which also includes improving the environment.
Although the used clothing business has been accepted by society, some garments sell better than others. In general, for hygiene reasons, it is normal for people to prefer to buy clothes that are not in direct contact with the skin. Under these assumptions, the used garments that are sold the most are:
Coats
Hats
Accessories
Ties
Handbags
Coats
Raincoats
Jackets
One of the keys to the operation of second-hand clothing stores is to provide high-quality materials, in addition, they must go through a strict washing and cleaning process. Furniture is also vital for the operation of your used clothing business, so you must purchase:
Dressing rooms
Hangers
Display cases
Shelves
Showcases
Mannequins
Mirrors
Cash register
6. Sleepwear
A clothing business is profitable when it meets the needs of consumers, which is why in our list of ideas for clothing businesses we have included the sale of pajamas or nightwear. So if you are thinking of generating extra income from home, an interesting option that you can start with relatively little capital is the home lingerie business.
Among the services you want to offer, you can cover the following potential customer niches:
Cotton clothing or delicate material that covers a greater number of people.
For girls and teenagers. This type of clothing is made of delicate material and light or pastel colors, according to the age of this niche.
Clothes for adult women, of good material and quality. For pregnant women, where bras are included in pajamas adapted for breastfeeding.
Sexy pajamas: This type of lingerie is more oriented to couples, where black and red colors predominate, as well as different models to choose from. Ideally, this type of business is dedicated exclusively to this area to offer other types of lingerie such as nightdresses, stockings with designs, among others.
Men's clothing, here you can offer simple underpants, boxers , white clothing such as t-shirts, socks, pants.
One of the keys to success in the clothing business is defining your own unique style. This allows you to differentiate yourself from the many brands that already exist on the market. For example, it could be the quality of the fabric, the design of the garment, or the pattern. You can also design comfortable products for children, adults, couples, parents and children, depending on the season.
7. Fashion business and workwear
Among the ideas for a clothing business, we find those that focus on the productive or business market. This project does not require previous experience or training, so there are no major difficulties in the implementation process. Employers should be encouraged to explore specific concepts of customer service and business skills, as well as the world of safety devices in the workplace.
The products can be the following:
Health and aesthetics: gowns, jackets, pants, pajamas.
Hospitality: aprons, pants, hats, vests.
Industry: T-shirts, jackets, vests, fleeces, pants, boots, shoes.
New product lines such as: helmets, gloves, glasses, masks, ear muffs, among others.
Other services that you can offer are the following:
Embroidery and serigraphs.
Exclusive designs adapted to the client's needs.
Orders by phone with collection in the store or with home delivery.
Visits and budgets to measure.
Needs studies.
Arrangements and adaptations.
The best ads for this type of business are reviews from satisfied customers. Therefore, providing a quality service informing and resolving all customer inquiries is the best advertising strategy that can be developed.
In this sense, the communication that occurs within the facility itself is very important. Therefore, the sales staff must prepare enough information to advise customers in the best way.
8. Clothing store for pregnant women
One of our ideas to start a clothing business is to reach the maternity sector. At present, many women who are pregnant cannot find stores that are in charge of marketing garments or outfits just for them, that allow them to look beautiful, but above all comfortable.
Selling maternity clothes is a great business opportunity that focuses on the investments mothers make during most of their pregnancy. It is true, there is a lot of competition in the market, however, the success of your business depends on you.
How to succeed in this business? You should be aware of the latest information on maternity fashion. Keep in mind that "word of mouth" works for all sales, so the product must have enough quality and unique value to recommend it.
Your goal should be that pregnancy, a special stage for women, is a captivating and learning experience. To make each client comfortable, try to offer the following services:
Dresses, underwear, maternity bottoms, knit shirts, nursing bras.
Polos, t-shirts, bracelets, necklaces, rings, mugs, pillows, these products can be customized depending on the client's taste.
It offers anti-stretch mark creams that contain rosehip oil, jojoba oils, vitamin E and gotu kola.
Also, you can make meal plans for pregnant women.
Facilitate prenatal yoga classes through a professional instructor.
This type of partially focused industry is profitable and emphasizes high quality and customer service, as well as a variety of products that integrate over time and as the business grows.
9. Custom T-shirts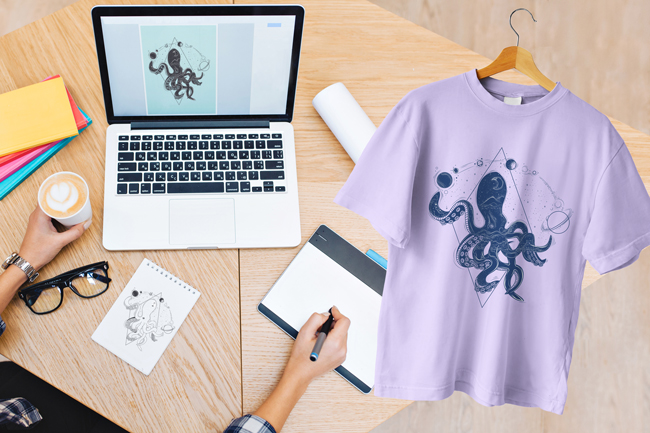 Among the ideas that we bring for you to make a good clothing business is that of selling personalized t-shirts. If you have artistic talent and are interested in fashion, a t-shirt company may be an ideal plan. In addition to creativity for this type of business, you need cheap t-shirts. They are usually made of cotton, but some people prefer to work with other materials.
What techniques will you use to personalize and print the shirts? The stamping technique will play a key role, it will be a trait by which you will be recognized. The quality that your clients will perceive in their t-shirts and the budget that you will have to invest in their personalization will depend on the technique used. Some of the most common methods are:
Silkscreen: Uses an image printed on a press mesh. It is stamped through pressure and the ink is heat dried.
Textile vinyl: It consists of a plastic material on which the image can be printed, and then fixed to the clothes through a heat iron.
Sublimation: A special ink is used on a sheet of also special paper. It goes from a solid to a gaseous state, thanks to a heat press, and adheres to the fabric.
Transfer: An image printed on a sheet of special paper for this process is ironed onto the shirt so that the design remains attached.
Embroidery: It consists of sewing with thread on the fabric until the desired design is achieved.
The costs that you should consider for your t-shirt printing business are:
Initial investment: Personal computer, printer, iron, ironer.
Raw material costs: you will need shirts of different sizes, Digital Transfer sheets, replacement inks for volume printing.
Other costs: Electricity, advertising, paper bags for delivery.
10. Underwear store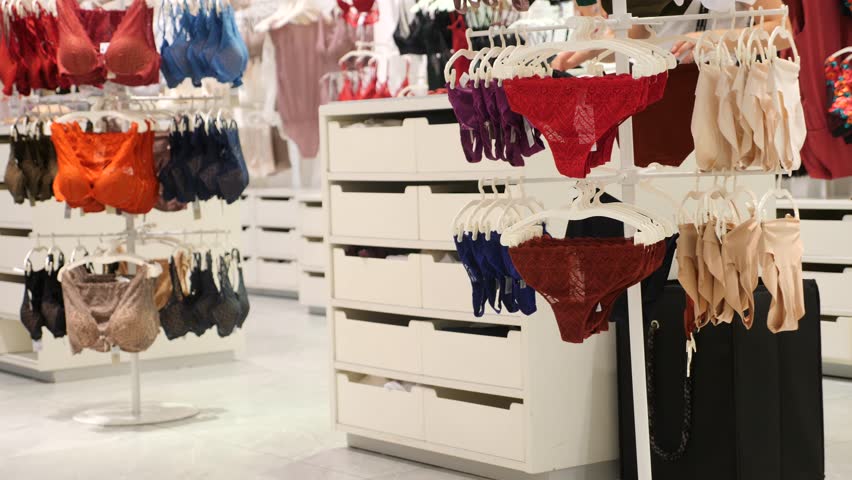 One of our latest ideas for starting a clothing business is to set up an intimate clothing or lingerie store. Underwear is a product of great interest to both men and women, as it is widely consumed daily. Market research is an important step before starting a business.
Probably wanna read: